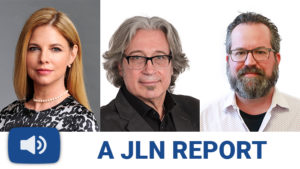 As part of a podcast collaboration with JLN ( John Lothian News) presented here is episode 1. In it, we discuss the challenges facing the current market operators as well as those facing the incoming license award winners. We also comment on the opportunities that cannabis market participants and investors may wish to focus on. And we look forward to returning to the studio to continue these discussions with other local and national thought leaders in the cannabis space.
Listen to our thoughts here:
https://johnlothiannews.com/fledgling-illinois-canna-business-clipped-by-covid-19/
ABOUT SUPERCRITICAL
Headquartered in Chicago, Illinois, Supercritical is an independent investment advisory firm. Its businesses include capital raising readiness, capital introductions, cultivation, and operations.
To learn more about Supercritical, visit https://supercritical.agency/
_____________________________________________________________________________________
SUPERCRITICAL  CONTACTS:
Jay Caauwe, Kerry Jordan, Sparky Rose
Co-founders and Managing Partners
Supercritical, LLC
T | 312-894-6260
E | info@supercritical.agency